You may not know this but Gmail has a feature to send confidential emails, and all it takes is a click of the mouse – this step-by-step tutorial shows you how. Scroll down to the end if you want to watch the video tutorial 🙂
Firstly a word of warning! Any emails you send in the confidential mode will not be able to be forwarded, printed, downloaded or copied by the recipient, so if you're attaching a file they can only view it as part of the email (they won't be able to download it).
Once you've typed out your email & added any attachments you want to send, click on the Confidential mode icon (padlock with a clock) to toggle it on & off…
---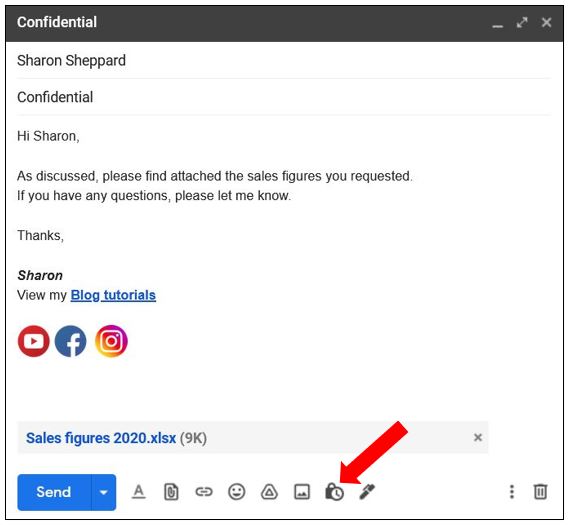 ---
This brings up the following options for you to choose:
(1) Expiry date – choose from 5 timeframes – but you can't set your own custom date.
(2) Passcode – you have 2 options here of a passcode:
No SMS passcode – if the recipient opens the email in Gmail then no code is required. If they use a different email provider then they will be emailed a passcode.
SMS passcode – the recipient will be texted the passcode (you will need to enter the recipient's mobile number)
---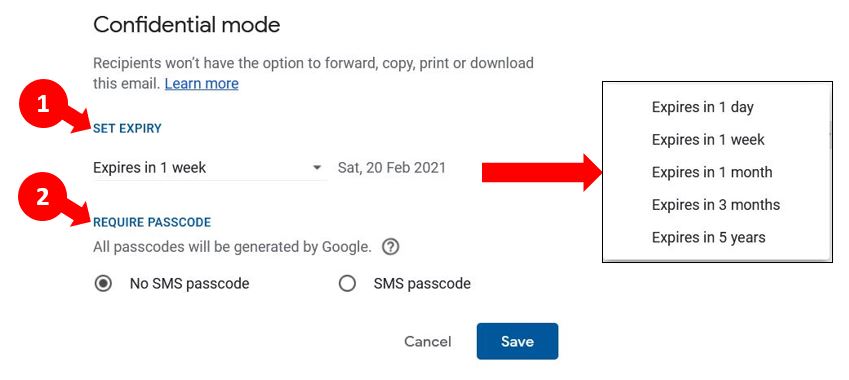 ---
Once you have made your choices, press Save and your email will now have an additional notification letting you know the expiry of the email. Click on Edit to make any changes, or remove it completely by clicking the cross on the right hand side…
---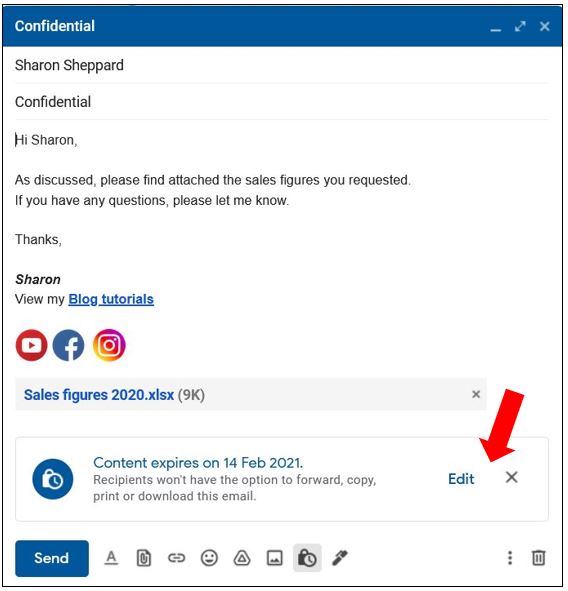 ---
Then press Send to send the email 🙂
---
What the recipient sees
When the email has been sent, the recipient will see that it is confidential in the subject line…
---

---
When they open the email, they'll see a notification at the bottom of the email advising of the expiry date…
---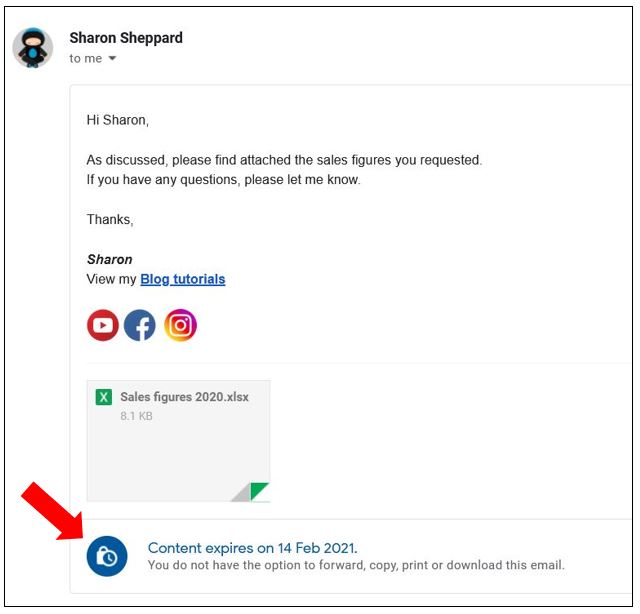 ---
If you want to make changes after sending…
If you decide you don't want the recipient to have access to the confidential email anymore but you've already sent it, you can still remove access. Just go into your Sent items, find the email and click into it, and you'll see an option to Remove access at the bottom of the email…
---
---
If you change your mind again, just go back into the sent email and there will be an option there to Renew access…
---

---
Once you've removed access, if the recipient goes in to view the email, they will get a message saying the email has expired…
---
---
And that's it – a great feature in Gmail that surprisingly not many people know about! I hope you've found this useful to know 🙂