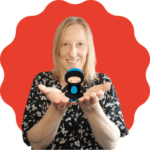 Hi there, I'm Sharon!
I've run my own admin business since 2010, and over the years I've been asked LOTS of questions by my clients on how to do "adminy" things to help them save time!
I want to help small business owners like yourself get to grips with the basics of Google Suite, MS Office, Canva, Zoom, and any other software that will help you run your business more smoothly!
I think we all have enough on our plate without the added confusion of all the complicated jargon that goes with learning something new, so in my tutorials I show you step-by-step how to do something as simply as possible!
Feel free to have a browse through my written tutorials by choosing a category from the drop down menu in the sidebar. If you prefer to watch video tutorials, then be sure to check out the "Video Tutorials" page and subscribe to my YouTube channel.
To get back to my main blog page, just click here or on my logo in the header.
I hope you find my tutorials helpful, if you have any questions please email me here.
Thanks so much for dropping by 🙂
---